Invasion of the Fourth Reich
You may find a copy available here:
http://rpg.drivethrustuff.com/product/123372/Invasion-of-the-Fourth-Reich
Here is a little detail: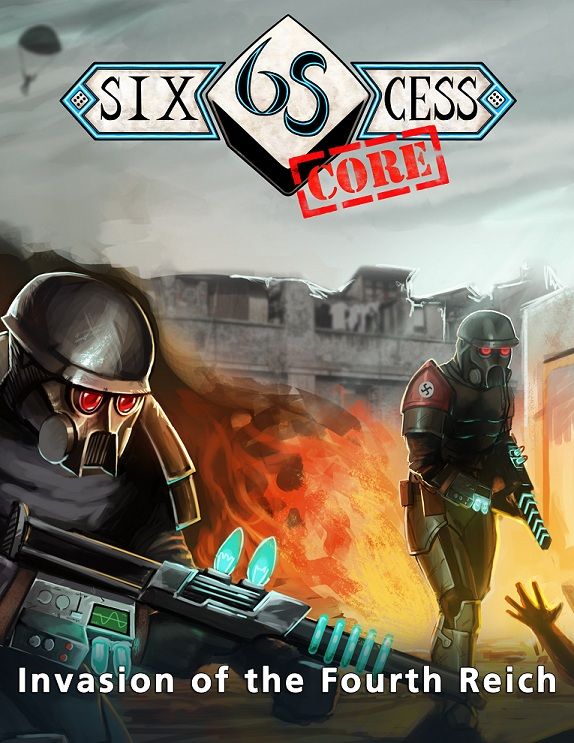 A Dark Rain
They came from a clear sky, without warning. Black parachutes floating serenely from a sky devoid of aircraft. It was the last serene day we'd ever experience. We were invaded, from another dimension, by Nazis!
Invaders from a universe where the Nazis didn't lose WWII.
The Invasion of the Fourth Reich mini-setting / adventure provides the setup for a one-shot, short series or ongoing campaign in a world invaded by Nazis from another dimension. The setting is the Core World (the Earth you live in) with dimensional portals allowing travel to and from Erde – the Earth ruled by the German Fourth Reich.
* Alternate Character Creation Rules
* 2 New Edges/Flaws
* 5 New Skills
* 10 Page Setting Background
* 10 Page Adventure
* 5+ Alternate Starting Points
* 6+ Sideline Events
* 3+ Adventure Seeds for Ongoing Campaign
* New Equipment
* 8 New Weapons
* 8 New Tech Items
* 5 Expanded Items
* 5 New Vehicles
* New PCs and NPCs
* 6 Detailed Sample Player Characters
* 11 Detailed NPCs
* 2 "Mook" Level NPCs